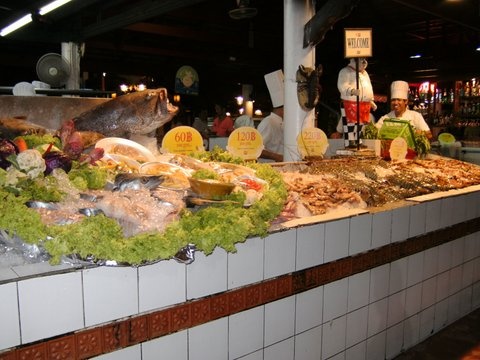 The island of Phuket has so much to offer. It is a bit more expensive than many other corners of Thailand, but you get a lot of value back as well. I have selected 6 hotels and resorts in and around Phuket for a short or a longer stay and a few suggestions where to go from there. Enjoy!
Or feel free to browse the Phuket hotels by using the search box on the right
---
In what place do you want to stay?
Patong: Everything is possible at Patong. Centrally located, beautiful beach with watersports, plenty of fine restaurants, nice bars and a more than crazy/vibrant nightlife. In case of a rainy day, you cal walk to Jungceylon shopping mall and stroll through the mall, go to the movies or play a game of bowling. But I told you, it's the "busy" part of Phuket. Hotels and guesthouses in any possible price category.
Karon Beach: Can be considered to be the sister of Patong. It's a bit smaller, has a nice long beach and some nightlife, some attractions and is lively, but not to the extent of Patong. The city is stretched along the beach, so prepare for some walking. Many nice and good restaurants and also good for shopping!
Kata beach: A perfect choice for families. There is some fun nightlife, but it is on a much smaller scale than Patong. You can find nice bars and good restaurants and a long and quiet beach. The beach is good for surfers, but most hotels are not immediately at the beach.
Kamala: also a good place for families, budget-friendly and quiet part of the island. Many small places to eat and drink on the beach. The nightlife here is pretty laid back and the entire atmosphere is more a "village" feeling. Phuket Phantasea is just around the corner...
Bangtao: Bangtao is a more upscale, quiet part of the island. It has almost no nightlife apart from some bars on the beach and limited shopping possibilties. But on the other hand, it has a beautiful very long beach, it is nice and peaceful and has some top restaurants. Perfect for families and couples.
Surin Beach: Maybe the most exclusive - luxury part of the island? It has a nice smaller beach, with some (more) exclusive beach clubs. Comopolitan, relaxed, high-end. Apart from the resorts and the beach, not many things around.
Mai Khao Beach: Mai Khao Beach is away from everything up in the north of the island. Large parts of the area are part of the Sirinath National Park. This is the place for honeymoon, luxury and relaxation with the longest beach of the island, perfect for long walks.
Phuket Town: Phuket town is away from the beaches but you enter in the real day-to-day life on Phuket. Plenty of (street)food, great atmosphere with the narrow streets and the Portugese style houses. Affordable guesthouses and hotels and a perfect area for discovering the real Thai life, with or without backpack
Phuket in style and Luxury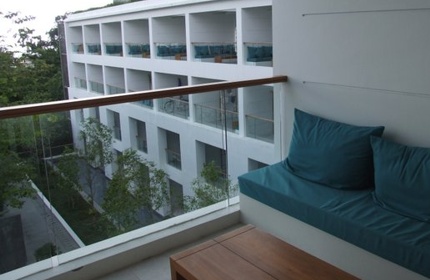 The Nap - Patong
This hotel has a quiet location, just outside of the busy center of Patong. The beach is just around the corner and you can reach anything (from shopping, drinks, restaurants, beach, nightlife) by foot, in a 5-10 minute walk. The modern rooms are nice and light, with large balcony's. The staff is exceptionally helpful.. The breakfast is good and offers plenty of choice. My favourite hotel in Patong. Forget the restaurant for dinner, but there's plenty of options around the corner.
Why book this hotel?
Walking distance to the action of Patyong
Quiet and nice location
Modern design hotel
Service with attention for detail
Price range double room: ca. 3500-7000THB/night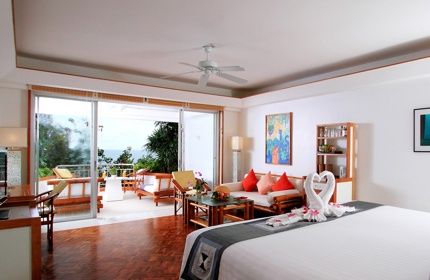 Mom Tri's Villa Royale - Kata Beach
This is a perfect choice for couples and families. You'll get the best location in Kata and great restaurants (with dishes from Michelin star guest chef's) on site. The beautiful rooms in traditional Thai style, the romantic Kata Noi beach and the perfect service, make this a hotel, you just don't want to leave.  Let yourself go in the Spa and relax in full luxury. 
Why book this hotel?
Relax with a perfect service on a dream location
Member of the Small Luxury Hotels of the World
Top Restaurant -  "Award of Excellence" - Wine Spectator Magazine
Beautiful large rooms
Price range double room: ca. 9.000-17.000THB/night
Baan Heaven private Villa - outside of Patong
I like this luxury place for families or small groups a lot. 5 Bedrooms on 3 floors, a large private pool and all possible amenities await you. The view is amazing, you just have to enjoy having your private villa in heaven. Patong is close by but you  are away from the hasstle. Daily maid service and a 24/7 concierge service make this option better value and better service than a hotel!
Why book this hotel?
Amazing private villa
5 modern rooms with large beds
All the comfort of a hotel and the privacy of a villa
Concierge can organize catering, transportation ect...
Price range villa : ca. 15.000-40.000 THBTHB/night
---
Phuket in style on a budget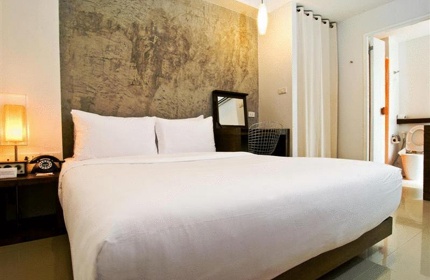 The Album Hotel - Patong
This cheap small boutique hotel is located in the center of Patong, a 5 minute walk brings you to the beach. The rooms are small, modern and clean but little worn out, the staff is friendly and very helpfull. There is a small pool on the rooftop. Therer is some noise in the early morning due to a school and the main road oposite the hotel.
Why book this hotel?
Small boutique hotel
Very good price
Central location
All day free water, tea and coffee in the lobby
Price range double room: ca. 750-2500THB/night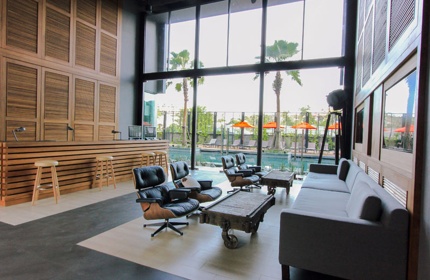 iSugar Marina Resort Surf - Kata Beach
This is a funny boutique hotel some 10 minutes away from the beach features a Surf-theme. The best possible theme in surfers paradise Kata. It has clean and light rooms. Many options for food and drinks around the hotel.
Why book this hotel?
Boutique hotel
Everything reachable in a 10 minute walk
Modern and nice interiour
Value for money
Price range double room: ca. 1700-2900THB/night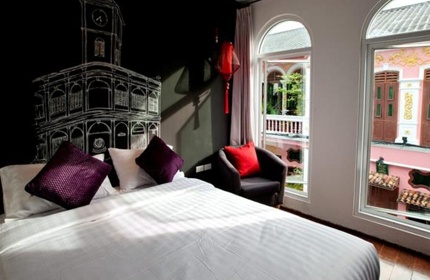 Rommanee Boutique Guesthouse - Phuket Town
This boutique hotel is located in the city center of Phuket Town. It only has 4 clean, nicely decorated rooms in modern style, and a short walk from restaurants and bars. It is not well suited for guests with reduced mobility (steep stairs). It feels a bit like staying with a Thai family. Perfect for a few days or to get the ferry in the morning.
Why book this hotel?
Perfect central location
Small boutique hotel with modern rooms
Good value for money
Price range double room: ca. 1000-1500THBTHB/night