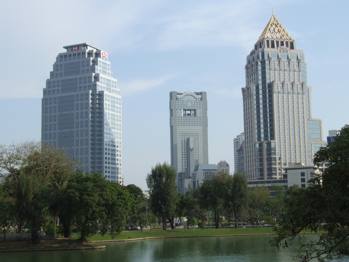 A fast growing vibrant city with over 8 million registered inhabitants on the borders of the Chao Praya river. You can start practicing on the full name of Bangkok in Thai. But Thais just call it by its short name: Krung Thèp.
My mother was amazed to see the side-by-side diversity in the city, from hyper modern skyscrapers, to traditional temples and simple wooden houses on the water.
It's hot, humid, busy, vibrant, nervous, crowded, modern and always changing. For an ultimate experience: go shopping!
In Bangkok you will also find open spaces (like Lumpini Park), where you can relax and watch the "Urban Zoo".
Weather

?°

?°

Error! Unable to Find Specified Location!
Attractions like a tourist
1. Royal Palace en Wat Pra Kaew
You absolutely have to see the Royal Palace when you are in Bangkok. It is a must. The Royal Palace has been built from 1782 and was the Royal residence untill the middle of the 20th century. Within the grounds of the Royal Palace you find the temple of Wat Pra Khao with the Ermerald Bhudda. Just beware of the people around the Royal Palace. Constantly officially looking people will try tell you the Royal palace is closed. Always go to the entrance to see for yourself if it is open... Prepare your visit by wearing long trousers and no armless t-shirts. If you forget this advice, you can rent a sarong to cover yourself during the visit, but you loose time and you will look silly on the pictures...

 

Open from 8:30 till 15:30 -  Entrance fee: 400 THB - Go there by boat on the Chao Praya (see below)

Location on the map
---
2. Wat Pho - The reclining Buddha
Wat Pho is the most ancient temple in Bangkok, and just a few minutes away from the Royal Palace. It also the birthplace of Thai massage. You have to see the 46 meter (50 yards) long Buddha and the more than 1000 Buddha statues. Prepare your visit by wearing long trousers and no armless t-shirts. Go for a massage in the temple or in the massage school around the corner.

Many people forget to walk around after they have seen the big Buddha statue. Like most temples, it is an ocean of (relative) silence in the big city. Use it to get your energy back!

 

The temple is open from 8:00 till 17:00 - Entrance fee 100 THB - Go there by boat on the Chao Praya (see below)
Location on the map
---
3. Wat Arun - Temple of dawn
Wat Arun - The Temple of Dawn is my favourite temple. It is situated on the other side (west bank) of the river. The Emerald Buddha was stored here before it was moved to the current location in Wat Pra Kaew. It's design is completely different of the other temples in the city. You get there by boat on the Chao Praya (see below), and then you take the shuttle ferry (for 3THB) to the other side of the river. Make sure to be dressed properly to visit. Sarongs are available for rent. If you dare, you can climb the steep central prang. At the top you have a beautiful view over the winding Chao Praya and the Royal palace on the oposite side of the river.

 

Open from 8:00 till 17:30 - Entrance fee: 50 THB - Go there by boat on the Chao Praya (see below)

Location on the map
---
4. Shopping in town (shopping malls)

De shoppingmalls near the Skytrain stations "Siam" and "National Stadium" are spectacular. Paris en London can hardly compete with the luxury and the size of these shopping walhalla's. You can find any big designer brand here! Enjoy the airconditioning en stroll around, in these marmor palaces. Buying stuff here is not (much) cheaper than in Western countries, but it is absolutely a must see! Check out the food courts and the food centers

 

Open: every day 10:00 till 22:00 - Free entrance - Skytrain stop "Siam", "Chit Lom" or "National Stadium".

Location on the map
---
5. Buy your souvenirs at MBK
 MBK is a large shopping mall with mostly normal stuff. Not the (real) Prada and Armani brands you find in the luxury malls. Here you find a large section of nice souvenirs, great original T-shirts, all kinds of fun stuff to take home at cheap prices. I always find some nice clothes here.

There are several food courts in MBK. On level 5 you can find a Internation and Thai (mixed) large food court, one level up on the 6th floor, you find the cheaper (Thai) food court where the locals go. See more on food court in the food and drinks section.

 

Open: every day 10:00 till 22:00 - Free entrance - Skytrain stop "National Stadium".

Location on the map
---
6. Eat Thai streetfood
Streetfood is something you have to experience when in Bangkok. Streetfood is my main reason to go to Thailand. With very limited resources these people create delicious food on the sidewalk. Sometimes thy have chairs and tables, somtimes they only provide food in a plastic bag. It looks dirty and unsafe, but I have never been sick from the streetfood. Most of the vendors speak only Thai, it's only written in Thai, and as a tourist you pay more than the locals (then you pay 70THB or 100THB for a meal - same price like a coffee at home).  Choose Noodle Soup or a curry, or go for one of great desserts. Get your fruit peeled and cut (and try it with sugar/salt and chilli)...

 

Open 07:00 till 04:00 the next day - Streetfood is EVERYWHERE in Bangkok. Walk around and try.
---
7. Rooftop bar / restaurant
There are many rooftop restaurants and rooftop bars in Thailand. Most of the time locations with a view, come at a price and a lower quality food standard. Rooftop restaurants in Bangkok are not different. I have tried many of them already, but I mostly just go for a drink now. There exist better places for nice food in this huge city.

An affordable and nice rooftop restaurant is Cloud 47. It's more like a beergarden with great Thai food - show on the map .

You can go for the big ones like Sirrocco or Vertigo, but these venues are on every "Bangkok rooftop list" on the internet. Maybe try the affordable Siam@Siam rooftop bar - show on the map  . 

On my list to try next time is also Speakeasy on top of Hotel The Muse - show on the map  and Above Eleven in the Sukhumvit area - show on the map
---
8. Klong tour with longtail boat
Bangkok is a wetland. It is full of canals called Klongs. A tour on these canals by longtail boat is way to see the real Bangkok and to see the city from another, more hidden side. The longtail boat looks like a boat with a giant engine/mixer at the back. You can rent it for one to 8 people and go for a tour. The owners wait for you at the pier. Some tours have snake farm, and other stops, other tours just ride along the klongs for an hour. You also will see some "floating markets" along the way, that are just 3-4 boats selling stuff, far too expensive.  Choose what you want to see and ask for a customized itinirary...

Expect prices between 1500THB and 2500THB per boat for a tour. But it's absolutely worth it!

 

Open: in the morning - You can start at Saphan Taksin Pier/Skytrain station - show on the map
---
9. Vimanmek Teak Mansion
This is the former royal palace in Bangkok in the middle of Dusit Garden and it claims to be the largest teak mansion in the world. It's absolutely worth a visit if you are interested in Thai history, art and culture. The building has two wings of 60 meters long and is packed with art, antiques and royal attributes. The grounds are perfectly manicured and an oasis of serenity in the big city. You need a few hours to see the house, and it is a bit out of the way. So if you are only in Bangkok for 2 days you could skip this. If this is your second visit or you have more time this is absolutely great!

 

Open: Tuesday till Sunday from 9:00 till 16:30 Closed on certain holidays - To get there take busses numbers 18, 28, 108, 515, 539, 542 - show on the map
---
10. Jim Thompson House
Jim Thompson got the silk induistry in Thailand back on the map.  He was passionate about Thai history and Thai antiques and brought some ancient traditional Thai houses from Ayutaya to Bangkok. Now this place is museum full of Thai antiques. It's also an oasis of peace and quiet in the city center. A nice place to unwind for an hour after shopping and sightseeing.  Website

 

Open: every day from 9:00 till 18:00 - last guided tour 18:00 - To get there, take skytrain tot National Stadium - 10 minute walk from there - show on the map

 
---
Attractions like a local
11. Chatuchak weekend market
It is called "The mother of all markets" and one of the biggest markets in the world. Only open during weekends, this market attracts about 30% foreign visitors and the rest are locals. You can bargain, you can have fun, you can eat (ladies, try sexy papaya salad) at Chatuchak with the more than 15.000 vendors at the market. This is the best place to buy your souvenirs, if you want to take homes some nice Thai handcrafted stuff.

During weekdays the market is also open but mainly sells only flowers and plants. Please remember to agree on a meeting point and time in case you loose eachother in the crowd. You will get lost anyway... :-). website

 

Open: Saturday 8:00 - 20:00 and Sunday 10:00 till 17:00 - To get there, take the skytrain to 'Mo Chit' (no joke) or Subway 'Chatuchak Park'. show on the map
---
12. Take bus-boat on Chao Phraya river
In the old town there is no skytrain or subway/underground. So if you head for the Royal Palace or Wat Po, you need to take a taxi or the boat-bus. I recommend to take this boat. It's  a fast way to travel through this enormous city. The views from the water are astonishing and it is refreshing.

You can buy a Tourist ticket (hop on hop off) for about 300THB, a single fare costs about 15THB. I have never used more than 3- 4 tickets @ 15THB in one day, so the Tourist Tickets are a bit of scam. The vendors at the pier will tell you you'll have to wait longer etc... Just take the "non-tourist" boat and you pay at the person on board. website

 

Open: Boats are running during daylight roughly 6:00 till 19:00 - To get there, take the skytrain to 'Saphan Taksin' and follow the signs to the pier. show on the map
---
13. Lumphini Park
If you had it with the busy part of the city, Lumpini park is the place to go. You can watch hundred of locals jogging, doing Yoga, or join them on aerobics and relaxing in this large park. At 18:00 everybody stops, the national anthem is played and after that life starts again.

 

It's a great place start your day at 7:00 or to sit down and process the impressions of a busy day in Bangkok. Just rent a small boat and peddle around the lake for another view on life in this big city. If you want to sit on the grass, you need to rent a carpet. On Sunday there are concerts in the park. Food and drinks are only available at the entrance

 

Open: 4:00 till 21:00 - To get there, take the skytrain to 'Sala Daeng' or metro to 'Silom' station. show on the map
---
Special experiences
Bycicle tour
Try and ride a bike in the heart of the big bang city. These experienced guide take you away from the traffic jams into the 'other Bangkok" on a bike. It is an interesting experience and it brings you closer to the locals and the real Bangkok. I recommend to take the early morning tour, due to the temperature in the city website
Rooftop bars
There are hundresd of rooftop bars in Bangkok. We made a list of the interesting ones in our bars and restaurants section. COMMING SOON!
Sukhumvit Soi Cowboy / Silom Patpong
If you like nightlife, then you should pay a visit to the vibrant nightlife of Bangkok.
Khao San Road
This former backpackers cheap corner of the city is world famous. Since it has moved from cheap to wannabe cheap, but better, this place has become a marketing gig. I did not like the atmosphere there. But hey, go and look for yourself. Maybe you'll like it.
---