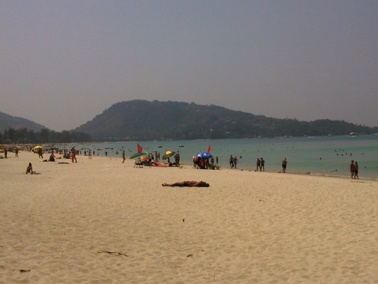 The Island of Phuket is a strange mix of beautiful beaches, luxury hotels, great seafood and cheap entertainment.
In the Patong region there is a vibrant nightlife, a lot of entertainment, a large beach with water sports, and plenty of shopping possibilities. In Bang Tao and Karon, the infrastructure is more family oriented. In the Kata area you have pure luxury five star hotels. Around the island you can find small bays with great beaches away from the crowd (like in our top resort suggestion hotel: Mom Tri's Villa Royal)
Weather

?°

?°

Error! Unable to Find Specified Location!
Attractions like a tourist
1. Sea Kayak into hidden lagoons - Phang Nga Bay
Phang Nga Bay is impressive and best known for the "James Bond Rock". Now the rock is a nice landmark in the area, but it cannot compete with the other attraction just around the corner. Its full of hollow islands.

When you pass these islands, you would never believe the islands are hollow and there is a hidden lagoon inside. You can only get in the at low tide by small canoe. This is one of my favourite trips in Thailand.

 

You leave Phuket or Krabi with a bigger boat and sometimes, you'll get time for snorkling before and after going into the hidden lagoons in your private canoe with driver.

 

You leave in the morning 8:00 and are back around 16:00 depending on the tides.
---
2. Khao Sok National Park ++
This national park is considered to contain the oldest evergreen rainforest in the world. After the construction of the Rajjaprabha Dam in 1982 on the Pasaeng river a lake was created of 165 square kilometers inside the National Park Boundaries.

You can visit the park with an 1/2/3 day excursion. You can go to stay in the jungle on homes on rafts. You can go on hiking or trekking tour, but also canoeing, swimming, bird watching, relaxing... Recommended stay: Priawan Raft House  They also come and pick you up at the pier and take you on a tour through the park.

 

You can get there by taxi, car and excursion available also everywhere in Phuket, Krabi and Khao Lak - Location on the map

 
---
3. Phi Phi Islands & snorkling tour
Everybody who has seen the movie The Beach wants to see Maya Bay on Kho Phi Phi Don. The places is very crowded, but it's a beautiful beach. So go to there, to tick it off your bucket list and carry on.

The rest of a typical tour to Koh Phi Phi is more fun. You can snorkel in the crystal clear waters and see many tropical fish. All snorkling materials are provided on board.

 

Or just enjoy the ride and the scenery on your speedboat at 110 km/h (70 mph).

 

Leaving in Phuket around 08:00 return times depending on the tides - Price : 2000-3000 THB

excursion available everywhere in Phuket - Location on the map
---
4. Phuket Town Weekend Market
Phuket Weekend marked. Every Saturday and Sunday there is a weekend marked just outside of Phuket Town. You can take a taxi there (and the taxi will wait for you to bring you back to the hotel) for about 1000 THB. The weekend market is unique possibility to try real local Thai food and buy cheap souvenir. It is huge, starts around 17:00 and finishes around 22:00. You need about two hours to do the tour of the market and have some dinner there (a must do!!). The market is 3/ 4 covered with tents so you will stay dry even if it rains. Try fresh fruits, fresh juices, fish cakes, noodle soup, Thai coconut cupcakes, etc...

 

Open Saturday and Sunday 16:00 till 22:00 - Get there by taxi

Location on the map
---
5. Phromthep Cape
The southern tip of the island is a great place to watch the sunset. The view on the different small beaches is amazing (Nai Harn Beach, and on the way there Karon, Kata and Kata Noi) and there is a Buddhist temple. Nice photo opportunity. The sunset is the main attraction here.

 

You can combine this stop with a visit to the Rawai fish market (see below).

 

Best time to visit: on a clear day between 16:30 and 18:30 -

You need a taxi, motorbike or car to get there. Location on the map
---
6. Banzaan Fresh Market - Patong Market behind Jungceylon
Just behind the shopping mall there is a real Thai food market. You can buy fruits and vegetables, but also fish and meat.

On the top floor you can find a food court with several booths that cook the fresh food for you that you have bought on the ground floor at the market. Or you can just order from their menu.

Only for lunch or early dinner since the market closes around 18:00.

 

Open: every day 7:00 till 19:00 - Free entrance

Location on the map
---
7. Bangla Road - Patong
It is crazy. It is load. It is sexy. it rough. It's neon lights, It's red lights. It's raw nightlife with charming edge. You definitely have to do the Bangla Road walk. You will not believe your eyes. And if you have the time and you want to watch the show? Have a seat, grab a beer and watch the "Urban Zoo". You'll get more entertainment in half an hour then you get on your TV with 69 channels and nothing on.

There are several disco's, many restaurants (try the restaurant "Higher" a nice, "almost rooftop" restaurant high above the Bangla road experience), a lot of bars, a lady-boy bar section and many lady bars.

 

Open: The fun starts in late afternoon till 3:00

Location on the map
---
8. Jungceylon Shopping mall - Patong
The Jungceylon shopping center is a nice way to kill some time if it is raining. There are a lot of nice shops inside and also a section with local (handcrafted) souvenirs – downstairs in the basement. You'll find a food court and a large number of restaurants, from Asian chains to Western fast-food. On the top floor you can go to the cinema (a must do when in Thailand!!) or play a game of bowling.

The food court in the basement used to be very good, but got worse after the renovation the past year. Maybe try WineConnection, a wine shop, annex restaurant that is great place to have some nice food with affordable good wines.

 

Open every day from 10:00 till 22:00 - Location on the map
---
Attractions like a local
9. Rawai Fish market
This place could be a step too far for a first time visitor, but if you want to see the island like a local this place is worth a visit. You need a car or taxi to get there. It is far south on the island, but if you love seafood and fish, this is as good as it gets in Thailand. The place is known for its seafood marked.

 

You buy the fish on the market and you head for one of the restaurants with your purchase. You ask the staff in the restaurant to prepare the fish or seafood the way you want it (for a small fee 100-150 THB per dish). If you have no idea what you can do with it, the waiter will indicate the best way to prepare your seafood.

 

Open: daily 11:00 - 23:00 - To get there, you need a taxi or car/motorbike. show on the map
---