Traffic in general
With death toll of 25.000 souls per year, the roads in Thailand are dangerous. Only during the 7 days of Songkran festival in 2015, 364 people got killed in 3300 accidents. Driving under the influence of alcohol, bad road conditions and many more reasons are the cause of this bad numbers. A whole family on a motorbike (4 children, mom and dad + a dog, chicken or duck) are a common sight. Always be careful, look in all 4 directions before crossing the road, any road, anytime.

The roads are busy, almost everywhere where you will go as a tourist. Bangkok is in fact one giant traffic jam.

The sidewalks are used for everything. There are markets, food stalls, massage parlours, hawkers  and sometimes you even see elephants walking. The sidewalks have a kind of slopes on the roadside and this is very dangerous when you leave the center of the sidewalk. Let's face it, this is the most dangerous part of Thailand most tourists get involved with. I got slightly injured twice on my trips, some friends several times during one holiday, just because they did not pay attention to the slope on the sidewalk.
Bus
There are bus services between all major cities and villages. Long distance buses come in different classes of comfort and can be traveling during the day or the night. Different companies and other buslines can have completely different rolling material. I had brand new modern 25 seater buses between Chiang Mai and Chiang Rai, and 30 year old worn down buses in Bangkok. Some offer food and drinks, others don't.
Long distance buses leave from a bus station. In some regions, like Bangkok, you have different bus stations depending on the direction you want to go. To get into town from the bus terminal or to reach the bus station from downtown, you need the skytrain, a taxi, tuktuk, songthew,... to get there.
Traveling by bus is always an adventure in a foreign country. If you have time, it I a great way to meet Thai,to learn about the country and to get to he next bigger city. Most buses have a form of time table and will run frequently. Be sure to be on time. Not all the buses have strict timetables, some leave when they are full.
Let me tell you a small story about my experience at a bus station somewhere in Isaan to get back to Udon Thani.
We were waiting at the bus station for about an hour. People arrived and we were now 10 for the trip. The driver came with the minibus and cleaned it inside. I asked:"when do we leave?" he driver answered: "When bus full". Now 7 more people arrived. The driver got into the van and drove off on his own. He could not take 18 people in his van. He came back with a big 54 seater bus. He put on his overall and started working on the engine. After 30 minutes he stopped his banging and oil changing, jumped on his motorbike and was off again. A half an hour later he came back freshly showered and ready to drive the 45 people who had gathered at this point at the bus stop to Udon Thani. Everybody happy...


Boat and Ferries

Skytrain - Bangkok only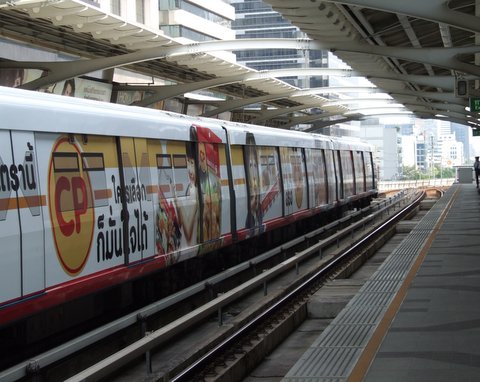 The main public transportation system in Bangkok is the BTS Skytrain Website
. It's like a subway/metro, but above the ground. The rails are high above street in the middle of the street. It is the fastest way to get to most places through Bangkok. About 600.000 people use the BTS Skytrain every day! You buy tickets at ticket machines in the stations (some only accept coins - keep your 10 THB coins!). There is an office the does not sell the simple tickets, but they can provide you with change for the machines. Every year I see more machines in the stations that accept paper money. Expect between 25 and 55 THB for a ride depending on the distance travelled. The machines have instructions in English and are pretty self-explainatory. Your ticket is a plastic card that you need to get back out of the station of disenbarkment. It's a clean wasteless & paperless system! Route map
There is always an escalator and stairs to get to platforms, but they are sometimes a bit hidden. To come down from the platforms mostly there is only stairs. There are entries for disabled persons at some stations, but they are almost impossible tu use.  More about the BTS Skytrain on Wikipedia
.

Metro - Bangkok only
In a part of town there is also the "undergorund skytrain", we know as a metro/subway. Because most of the city is swamp land the metro only covers the "dryer part" of town. Same procedure as for the skytrain, only here your ticket is token. Also very clean and very efficient.

Air travel - Getting there by plane
There is a good chance you will arrive in Thailand via Bangkok's Savarnabhumi airport (BKK) of Phuket International airport. These airports are modern, state of the art airports (Phuket gets a completely new airport in 2016). Savarnabhumi is clean, beautiful and very efficient. Before going through to pick up your luggage / or to get a connecting fight you need to go through immigration. Waiting can take up to 1.5 hours, but most of the time it takes just a few minutes.After immigration you are in the luggage pickup zone and almost out of the airport. To get to Bangkok city center you have different options. Taxi costs about 5-600 THB, Airport link 100 THB per person for the first part. If you need a sky train connection, you'll need to buy a new separate ticket for the skytrain. 
If you need an connecting plane in Bangkok, you follow the signs for "transfer to (Phuket, Koh Samui, Chiang Mai, ...)". You'll have a separate immigration desk there to get into the domestic part of the BKK airport. The layout (flow of the people) of this connection corner in BKK airport is a bit strange, but OK you should survive it with some common sense. Just make sure you book your connecting domestic flight for departure from BKK (Savarnabhumi Airport), since the Don Muang Airport mainly used for point to point domestic flights is on the other side of town.
Air travel - Traveling in Thailand by plane
The safest option to travel in Thailand. Almost all regions have an airport close by. Thai Airways
, Bangkok Airways
, Air Asia 
and Nok Air 
are all reliable airlines for domestic travel in Thailand and the surrounding countries. Be careful when choosing the other "very cheap" airlines. Some of the airlines have a very bad reputation, even to the extent that they drag down the international score of all airlines in the country to the level of "red flagged"
.
Train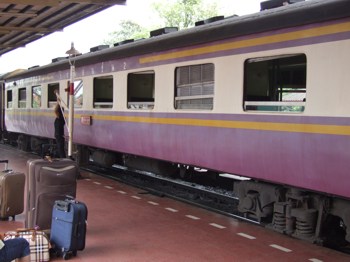 Taking the train in Thailand is an adventure. Trains are always late and are old. I have traveled long distance, from Chaing Mai to Bangkok by train and from Sungai Golok to Hat Yai. Both of the trips were a unique experience... You can buy he tickets in advance at any train station in Thailand. But the website to buy tickets has been shutdown a few years ago. You have second and third class on most long distance trains and someone told me there is also a first class. Just think of second class trains like the trains in Europe in he 1960-ies. The speed of the average train, when rolling is a stunning 50-60km/h. Prices are reasonable. Count between 300 (Songai Golok to Hat Yai in second class) and 1500 THB depending on the distance).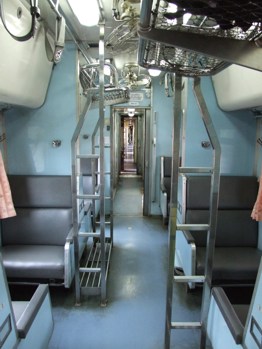 In Kanchanabury there is train to cross "The bridge over the River Kwai" and also a train to discover the "Hellfire pass", the track ends at the waterfalls in the area. (See section: Things to do Kanchanabury).
Here on the right you see the cabin of second class (sleeper train) during daytime. The picture was taken on the South route from Songay Golok To Bangkok.