Car
All major car rental companies are represented in Thailand. Driving is on the left side of the road, and there are basically no rules. In fact there is traffic law, but it is hardly used. So if you drive in this country, drive carefully! Traffic comes in all forms and shapes (from motorbikes to elephants), from any side (yes, believe me) at all times, and many people drive drunk. Renting is car is a great way to see more of the real Thailand and you are the boss of your own time. But be careful, it's a jungle out there!
Rent a motorbike
Let me start with the most important rule of renting a motorbike: IF YOU DO NOT DRIVE A MOTORBIKE AT HOME, NEVER DO THAT IN A FOREIGN COUNTRY EITHER! (if you consider renting a motorbike, read the phrase a few more times). I work for a large travel company and we see customers die and get injured every year just because they lacked the skills of driving a motorbike. You will be busy enough focussing on the traffic, so it's important don't get distracted by the technical skills (shifting gears, etc...)  on your motorbike. This said, a motorbike is a great way to discover Thailand. In the north there are even great and beautiful organized motorbike tours (see Section: What to do) . On the Islands a scooter or a motorbike are the cheapest options to see most places. The only thing, apart from traffic, you have to be aware off is the rain. Rain in Thailand can spoil your motorbike trip and most of all the roads can get slippery as hell. I've seen hundreds of accidents in Phuket on the mountain to get to Patong during rainfall. When possible do not drive in the rain, if you really want to drive in the rain drive slowly!
Rent a bike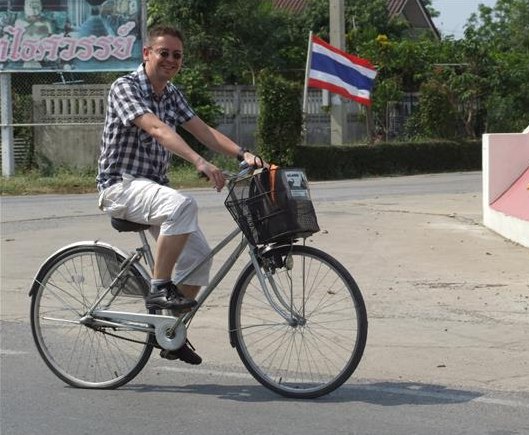 In Ayuttaya and in Sukhothai the bicycle is the best way to discover the ancient city. And even in bangkok there are some very interesting biking routes (see section: Things to do).  It's a very fun way to get closer to the real life and due to the low speed it's easy to get in touch with the locals. Just forgive them their smile when they see a "Falang" on a bicycle. It will never be possible to explain to them why you did not take a taxi, when you have the money for it...
You pay between THB 100 (just a simple bike 1/2 day) and 3500 THB (full tour on high quality mountain bike with guide) depending on the region and the service offered.
Don't let the hot climate scare you off, on the bike you get a nice refreshing wind whilst driving.
I love biking in Thailand!
Motorbike taxi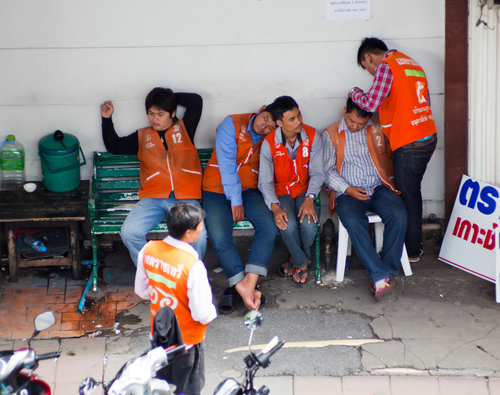 Along the street you will see people sit around. They wear a special (blue or orange) jacket and there is a kind of board with numbers attached to the light pole. These are motorbike taxi's. They are the fastest and most dangerous way of transportation in the city. For 40-100 THB (depending on the distance) they drive you to where you want, through the traffic jam. Not the safest way to travel in Thailand, but surely a fast way of getting across town.
I've seen 2 tourists with a 5 years old boy and a large suitcase on one motorbike taxi, and that was not the most crazy thing I have seen on a motorbike taxi :-)
TukTuk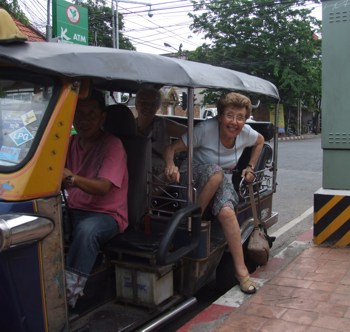 These are sometimes motorbikes with seating in the back or on the side, sometimes the tuktuk is a mini songthew (more on songthew below) car. The name is derived from the sound the two-stroke engine makes. The are fast, they get you anywhere in the city and it is fun. It's also a little bit dangerous sometimes, but live life on the edge and have fun. Be careful about tuktuk drivers. Not all are honest, some work in very difficult situations and need money. Especially in Bangkok I have bad experiences with TukTuk drivers. They try to bring you to gem-shops, other temples than the ones you wanted to see, to tailors, jewelry shops etc… When you are in the big bang, take skytrain, metro or grab a cab. TukTuk in Bangkok is also more expensive than taxi.
Songthew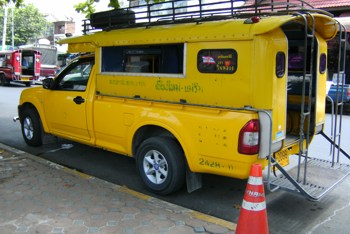 Is a kind of pickup truck with in the back two rows of seats (In Thai song=2, thew=row). It's the local private bus. There are different kind of songthews. Some act like a long distance bus and you pay per distance, others run as a local bus and you pay a fixed price per person. In Pattaya for example a zillion of songthews do the loop between beach road and second road, you pay 10 THB per person (sometimes tourists pay a little more). In Chiang Mai you have to ask the driver if he goes to your destination and agree on a price.
Mostly we talk about 15-50THB per person. If you have reached your destination, or where ever you want to get off, push the button (bell) and the car will try to get to the side as quickly as possible to drop you off. In a songthew, you always pay when you get off. You can also rent a songthew for private use. Then it works same as a taxi and the price is agreed before starting.
Taxi (this is a closed car with air-conditioning)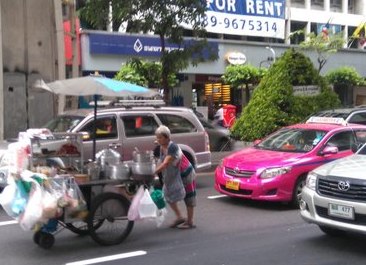 Most taxi's come in fancy colours in Thailand. Do some research online for the transfer prices from the airport to the city or to your hotel area where you want to go. Mostly a shared van is the cheapest option to get to your hotel from the airport. For private transportation the best option take a public taxi-meter. In Savarnabhumi Airport, you walk down to level 1 and follow the signs "public taxi". You queue up for a registration and you will get assigned a taxi driver. You receive a complaint form with all contact details and details to identify the driver, in case of a problem. On level 2 you will also find transportation services from AOT but they are more expensive. If people ask you "Where do you go?", "Taxi?" or whatever (many of them are illegal taxi's), just ignore them and continue down to level 1. The public taxi meters offer a "normal price" for the trip. At the toll booths they you have to pay the toll (expect around THB 100 for the trip to the airport)
In town you can catch a taxi anywhere you want by just raising your hand.
Watch out, there are a lot of ripoffs... An indication to keep you on the safe side: a taxi ride up to one hour should be under 1000 THB. Count on 1000THB for an additional hour of about 4000-5000THB for a taxi all day. This is an interesting option if you want to gain time and see many things. Last year I did, starting from Bangkok, Kanchanaburi and the Tiger temple and ended in Ayuttaya for 4000THB with a taxi.

For a few kilometers, prices are variable between 40 THB and 600 THB :-). In Bangkok (mostly everywhere) you can ask to drive by the metered price or you can negiotiate a price. If you want meter and the driver does not want that, just get out and take another taxi. Airport to about anywhere is almost always fixed negotiated price. If a taxi agrees to drive by the meter they expect a tip...
If you order taxi for a particular time, beware the driver will be there 15 minutes early. I never had a taxi that was late in Thailand. So be prepared and get ready 20 minutes before the time you have the apointment. It embarrassing to get called out of the shower by the reception, if you plan to go somewhere.
Price indication for a taxi:
Savarnabhumiu Bangkok to downtown    THB 500-800 (including Toll)
Phuket Airport to Patong THB 700