Thailand is a land full of contrasts. It is in one way modern and in another way very traditional. It has a lot of beauty and also a dirty side. It's yin and yang. First time in Thailand can be anything from totally impressed till completely confusing. My first time surely was confusing. Now, after 13 trips to all corners of the country, I am still in love with Thailand. I cannot name one other place in the world where you have this level of open tourist friendliness, great places to come to inner peace, combined with value for money and a gourmet heaven.
Thailand is a big and long county. Do not feel tempted to visit it completely in 10 days, you'll miss the real thing. Enjoy the exciting travels through the county and get in touch with the local culture.
So let's get started with the 3 most important questions!
When to go to Thailand?
Weather
You can go to Thailand any time of the year. You'll have high temperatures from March till June, relatively cool temperatures in November and December, and a lot of rain between August and October. And since the country is long, there is also a big difference between north and south Thailand. See the climate chart 
and choose a period to travel.
What do you want to do in Thailand & where to go?
You can do a beach holiday on an Island for 3 weeks, go for a honeymoon in a astonishing luxury resort, go backpacking through the country, or do a bit of it all. But choose your region if your time is limited (every trip under 3 weeks should focus on north or south, maybe combined with central Thailand)! I am creating some "help me choose" module for this website, but it will take some more time to finish it. At this point make up your mind on what type of holiday you want  in Thailand before you continue, then I can help you where to go.
I have classified the regions and the cities with tags so you can pick them based on your interests. What to expect where?
Where to stay?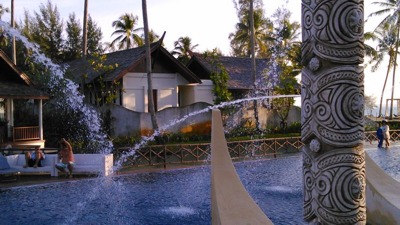 Hotels, resorts and guesthouses come in all types of shapes and styles. I have selected a number of venues I like because they are special, warm, friendly, have a great location, are clean and give you the opportunity to get to know the people and the country. Most important in this stage is defining a budget for your stays. You can sleep in a clean room with ventilator and private bathroom in central Thailand starting at 500THB (under 15$/ under €13 - exchange rate Jan. 2016), and you go in Phuket for the most beautiful resort with large and luxury rooms, with direct beach access and a private pool starting 17.000 THB (starting $450 / €430- exchange rate Jan. 2016) for a double or twin room (sleeping 2 persons). And there is everything in between. So let me show where I recommend you to stay 
depending on your budget and location. WE ARE STILL WORKING ON THIS SECTION. PLEASE VISIT US BACK LATER